Tenders need to be safe
Tender operations can be very different and present various risks associated with the way they operate. Tenders may be used on their own or to support a larger vessel operation. For example, they may carry passengers, catch fish or transfer crew or cargo.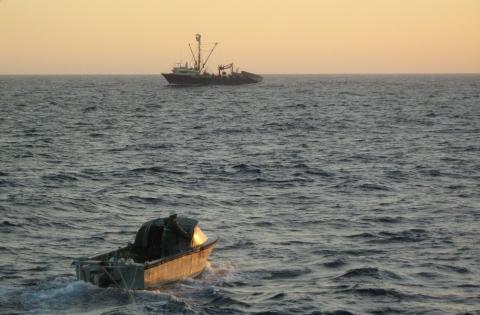 Safety management systems, risk assessment and emergency plans
A tender is classed as a domestic commercial vessel, and therefore requires a safety management system (SMS) to cover its operation.
This SMS must include:
vessel and key person details 
risk assessment 
minimum and appropriate crewing requirements 
procedures including training and pre-operating checks
emergency planning 
logbook recording  
maintenance schedule
incident recording, reporting and review
This may be included as part of the parent vessel's safety management system. 
Risk assessments
On a domestic commercial vessel, the law says that the owner and master must undertake a risk assessment and document key information. Preparing your risk assessment should include a discussion with your crew. This risk assessment must consider the risks to the safety of the vessel, the environment and persons on or near the vessel.
The steps for a risk assessment include: 
List the key activities associated with the tender operation (activities) 
List the things that could go wrong when undertaking these activities (hazards/risks) 
List the steps to take to make sure those things don't go wrong (controls)
List who is responsible to make sure the controls are followed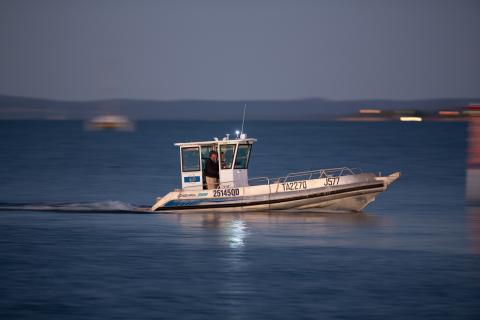 Parent tender operations can be particularly dangerous due to a number of factors. These factors often include: 
an inability to contact the parent vessel when an incident occurs involving a sole operator
lack of safety equipment
lack of general communications ability
lack of emergency procedures
the use of old, or heavily modified vessels with compromised stability. 
Read more:
Common hazards and risks
We have listed some of the common hazards, associated risks and possible ways of controlling those risks. However, you must address the specific hazards and risks in your operation, which may include additional or different hazards to those in the table below. 
It is a good idea to involve the vessel's master and crew in the process of identifying hazards and risks in the operation, as this encourages everyone to think about their role in ensuring the safety of the vessel and persons on board the vessel. 
Hazard: The tender vessel may stray from the designated fishing area and the parent vessel could lose track of the tender's location.
Associated risks:
Loss of life
Loss of assets
Injury
Illness
Exposure
Search and rescue activation
Possible risk controls:
VHF marine radios will support an operation by establishing a two- way communication between parent and tender vessel. Vessel protocols need to be established when using VHF marine radio.
Using a parent vessel's radar system to continually locate and monitor tender vessel positions will increase safety outcomes, particularly if a radar reflector is fitted.
Using an Automatic Identification System (AIS) will allow parent
vessels to track their tenders and give precise locations.
A vessel's SMS should consider situational reports at scheduled times between parent and tender vessels.
A vessel's SMS should consider implementing a system that allows the tender operators to return at scheduled times to either replenish inventories or just simply to check in.
Tender operators should be sufficiently trained to deal with emergency situations.
---
Hazard: Isolation of tender operator when operating tender single-handedly.
If medical attention is required they may not be in a condition to alert the parent vessel. If able to alert the parent vessel they may have to wait to receive medical assistance.
Risks:
Loss of life
Loss of assets
Injury
Illness
Exposure
Search and rescue activation
Possible risk controls:
The master of the parent-vessel must conduct a risk assessment based on the risks of single-person operations. A solution may be to operate in a buddy system with another tender.
A parent vessel must have appropriate emergency procedures in place to sufficiently manage a situation.
Equip each tender with a first aid kit and appropriate emergency equipment. Operators should have first aid training.
---
Hazard: Weather and conditions
Risks:
Vessel damaged, or destroyed
Man overboard
Loss of life
Loss of assets
Injury
Illness
Exposure
Search and rescue activation
Possible risk controls:
An SMS should set out safe operating procedures for all weather conditions taking into account wind strength, wave height and tides.
Tenders should be equipped with navigation equipment and depth sounders to ensure safe operations.
Personal Floatation Devices (PFDs) and Personal Locator Beacons (PLBs) are essential safety equipment.
Operating in a buddy system reduces the risk of loss of life.
Include your SMS in your crew inductions
Inductions are required on both the parent and tender vessel, including training to ensure any crew member has a sufficient level of competency to operate safely.
Know where your tenders are
As the master of a parent vessel it is your responsibility to make sure that you can locate your tenders at all times. You should use radar and Automatic Identification System (AIS) for monitoring purposes and VHF radios for continuous communications.
Know how to respond in an emeragency
Your SMS must include information on how you and your crew will respond in an emergency.